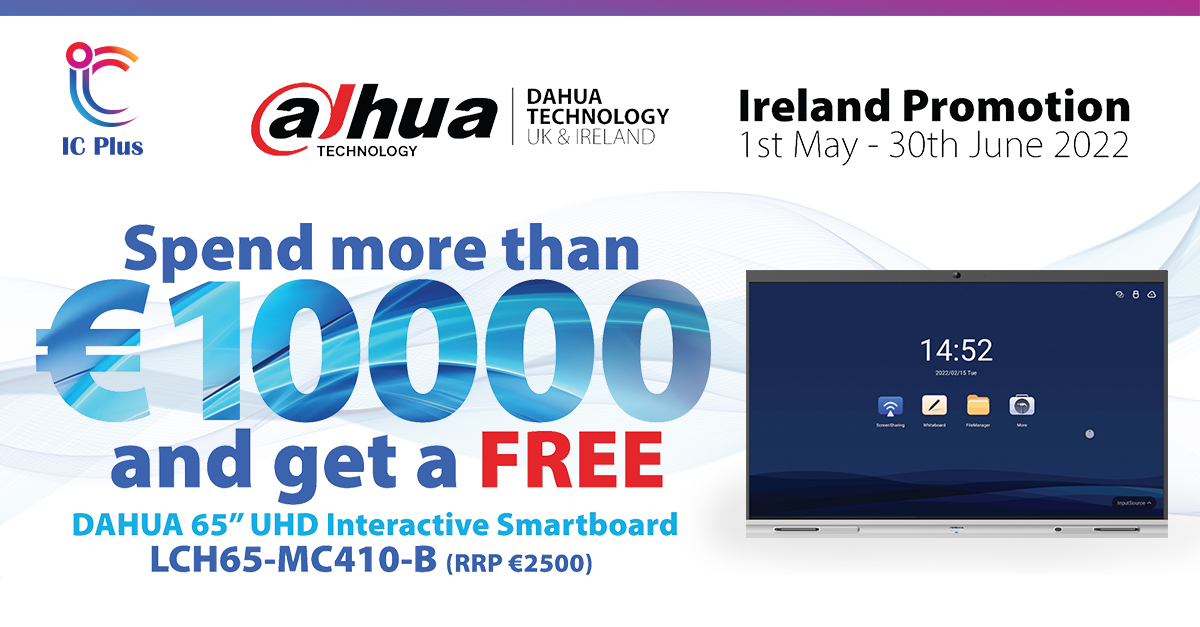 Together with our partners Dahua Ireland, we are running an excellent promotion through May and June 2022. The offer is simple, achieve a spend of €10,000 (+VAT) across May and June with us on Dahua products (monitors and hard drives excluded) and get Dahua's latest 65" 4K UHD Interactive Smartboard completely FREE.
With an RRP of €2,500, this is an excellent opportunity to update your meeting room with the latest in interactive whiteboard technology or simply use it to sell it! You can see the full technical details on the whiteboard here.
📞Talk to our Dahua experts today on 01-4268275 or hello@ic.plus

🛒Explore our dedicated Dahua product category on our website here.
Terms & Conditions Apply
1: Offer only available to installers registered either in the Republic of Ireland or Northern Ireland
2: Max of 1 Smartboard per customer
3: €10,000+VAT spend through 1 authorised distributor only
4: Orders shipped from 1st May 2022 to 30th June inclusive count toward the target
5: Hard Disks & Monitors are excluded from the purchase spend
6: Smartboards will be available from July and sent to IC Plus for onward fulfilment
7: By participating in this promotion you agree to your POS data being shared with Dahua